HYPE MACHINE
How Bobby Helps You Hype Your Group
Nothing gets a community more hyped up then buy pressure and green candles. Community members will even camp out Etherscan and Bscscan just to see them in real time and send incoming messages to the Telegram. Bobby Buy Bot lets the whole community engage with the hype and see buys execute in real time as the listed market cap just continues to grow. Bobby is an absolute must have in Telegrams for the hype and pertinent information that real time buy transactions and Bobby Buy Bot provides.
MULTI CHAIN
Bobby tracks buys on Ethereum, Binance Smart Chain, Polygon, Cronos and Avalanche
MULTIPLE DEXS
Load token pairs on Uniswap v2, Pancakeswap, Trade Joe, Degenswap and many more!
CUSTOMISABLE
Customise settings such as Emojis, Media, Buy Thresholds and more!
VERSATILE BASE PAIRINGS
Track tokens that pair with Eth, BSC, USDT, USDC, DAI, MATIC and others!
Our group loves Bobby and the excietment it builds every time it buys is awesome. Thank you so much!
BRING THE HYPE
How To Setup Bobby
Setting up Bobby couldn't be simpler!
Navigate to your Telegram group info screen
Click 'Add Member', and type in @BobbyBuyBot.
Select BobbyBuyBot (Ensure you choose the one that has the @BobbyBuyBot Username!)
Type /addToken in your group to begin the process of BobbyBuyBot bringing the hype!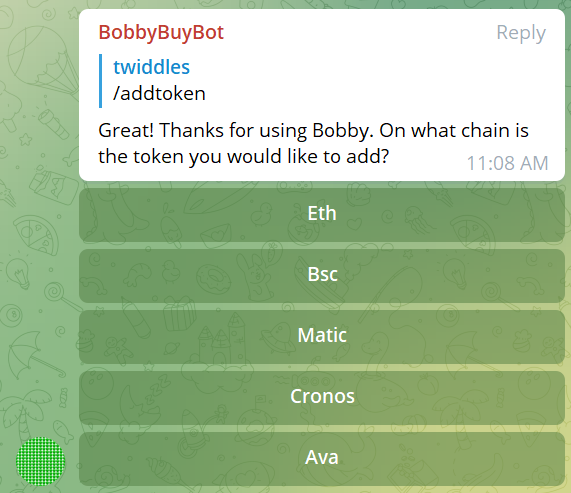 GO PRO
Bobby Pro
Bobby Pro enables you to take Bobby posts to the next level! With Bobby Pro you are able to completely customise how Bobby's posts look. Don't care about the Market Cap? Get rid of it! Want to add your own website? Chuck it in!
Get Bobby Pro today to stand out from the crowd!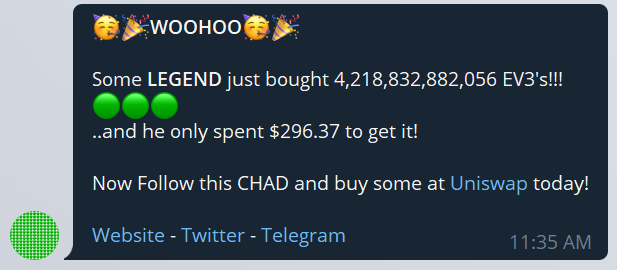 PAY ONLY ONCE
You only need to pay once for Bobby Pro, and that's it for the life of your group!
APPLIES TO ALL TOKENS
A single Pro subscription will apply to all tokens that you follow in your group!
HOW TO GO PRO
Add Bobby to your group
Add a token for Bobby to follow
Type '/settings' in your group
Select your token, and then click 'Go Pro'
Read the instructions on how to transfer the subscription fee, and then you're done!
SUPPORT BOBBY
Bobby NFT's
We pride ourselves on the fact that Bobby is ad-free.
We want to keep it that way! If you want to show your appreciation, then you can mint one of 5000 NFT's today!
These commemorative NFT's will sell out, so get yours today for just 0.1 Eth!
MINT NOW
HELP
Frequently Asked Questions
Question not answered? Head over to our support chat!
I've added Bobby but it isn't working?

Check slow mode is not on
Check other bots are not deleting Bobby
Check minimum buy using the '/settings' menu (Default is $100)
Check Bobby has rights to post

Can I change Bobbys name and icon?

Changing Bobby's name would require a new Telegram API key, which Bobby does not support, yet!
Does Bobby post sells as well?

No, Bobby only posts Buys (Hence the name...)

How Do I Change the settings?

After adding a token for Bobby to track, use the '/settings' command to change settings
The market cap is wrong!

Bobby gets the market cap by taking the tokens total supply and multiplying it by price.
If tokens have been burnt, locked up, lost etc.. this can lead to an incorrect market cap.
To adjust this, use /settings and then select 'Circulating Supply', and put in the correct circulating supply figure. This will fix the market cap.

Is Bobby open source? Can I have the source code? Github?

No.